"The fabled riches of Atlantis have returned and await you in the tides of gold at Atlantica casino! Try your hand at our signature wheel of destiny or watch Reed and Roger, the magical duo that are taking fortune city by storm!"
—Fortune City Map description
The Atlantica Casino is a major spot in Fortune City, serving as one of the city's exclusive hotels in Dead Rising 2 and Dead Rising 2: Off the Record. Located in Fortune Park, this hotel casino offers high roller-poker, blackjack, wheel of destiny and live music. It has an ocean theme and features a large statue of Poseidon as well as a swordfish, treasure chests, a giant seashell and other underwater decor.
Item Locations
Edit
Store
Location
Map
Type
Weapon
Food Books
Clothing
Mission
Sipparellos

Atlantica Casino
T101
Nightclub
Barstool
Beans




Atlantica Casino Main Floor
Main floor
Acoustic Guitar
Beer

Family Feud


Camille Payne

Atlantica Casino Magic Stage
Box of Nails
Beer
World's Most Dangerous Trick
Atlantica Casino Maintenance Area
Bucket




Atlantica Casino Poker Room
Bucket
Beer
High Rollers
Atlantica Casino Security Office
Casino Chips
Coffee Creamer




Atlantica Casino Upper Platforms
Battle Axe
Drinking




Maintenance Room 10 [[File:

center]]
Maintenance Room
Training Sword (1)


Construction Hat (1)
Box of Nails (1)
Push Broom (1) (outside)
Beer (1) (outside)



Prestige Point Sticker Locations
Edit
Off the Record Prestige Point Sticker locations.
| | Store | Area | Location | Number[1] |
| --- | --- | --- | --- | --- |
| | | | | |
| | | Atlantica Casino | The left foot of the "High Rollers" poker table | 11 |
| | | Atlantica Casino | The Poseidon statue at the Fortune Park entrance | 12 |
| | | Atlantica Casino | The Reed & Roger poster above the leftmost theater doorway. | 13 |
| | | Atlantica Casino | The base of the shell seat near the Uranus Zone entrance | 14 |
| | Security Room | Atlantica Casino | The corner tabletop inside the security room | 15 |
Zombrex Poster Locations
Edit
Zombrex Poster locations for the achievement Improper Behavior.
| | Map | Location | Location description |
| --- | --- | --- | --- |
| | | Atlantica Casino | In the Atlantica Casino Poker Room there is a Zombrex Poster on the far left wall. |
| | | Atlantica Casino | On the left after entering the Atlantica from Palisades mall. Next to the vending machines. |
| | | Atlantica Casino | On the back wall of the security room. |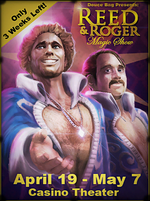 On the posters for Roger and Reed's magic act, at the top right corner "Douce Bag presents" is written in small print.
The Atlantica Casino upper platforms are called the Atlantica Ninja Octopus Path in the Off the Record Official Strategy Guide.[1]
In Off the Record, the fountain behind the giant clam is replaced by an entrance/exit to Uranus Zone.
Review
Blogger Gretchen of Tape It Or Die:
Pros: By far the classiest and most luxurious of the hotels. Has an underwater theme, which a midwestern girl like myself is always drawn to. There is also a jacuzzi in every single room.
Cons: Luxury, as it should, comes with a price. The Atlantica is easily the most expensive of the hotels. A quick price check has shown that there is nothing available under $400 a night. I didn't get to where I am by making extravagant purchases.[2]

Splash out on a night or three in one of the deluxe rooms at this high-rolling underwater themed casino.
Roof-top Pool * Jacuzzi in every room * Giant Aquarium * Wet Bars * Live Magic * Casino
No zombie pets policy - Weapon hire - Zombrex available

Advertised features:[3]
Facilities
Price
Reviews

5 Bars, Pool, Room CCTV, Bodyguard Service




$100.99 - $2019.99 per night

No matter how much you read about Atlantica, nothing prepares you for seeing it the first time. We'd always wanted to splash out on our second honeymoon and this was perfect!

--Matt & Rosalind Worthy

...We had the time of our lives. Jacuzzi every night, won big on the tables and felt like we'd been to another world. The giant aquarium is one of the most amazing things I have ever seen. "Dive in" is what we say!

--The Duffys
References
Edit
↑ a b Dan Noel, Jeremy Chan, Dead Rising 2: Off the Record Official Strategy Guide, Brady Games, (2011). Located at the beginning of description of each area.
↑ Gretchen, An Examination of Fortune City Hotels, Tape It Or Die, (July 27, 2010).
↑ Casinos in Fortune City, Visit Fortune City. (2010).
Community content is available under
CC-BY-SA
unless otherwise noted.