Bazooka Bike
Type
Vehicle
Uses
150 rockets
250 hits
Strength
Great
Location
Combo Bay

The Bazooka Bike, also known as the Rocket Launcher Motorcycle, is a weapon and vehicle in Dead Rising 2.
It can be crafted in the Combo Bay after the mission Meet the Contestants is completed, by combining a dirtbike with a Rocket Launcher (combo weapon).
Vehicle Modifications
Edit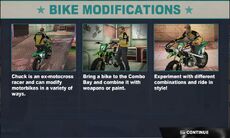 In Dead Rising 2, after defeating the psychopath Leon Bell during the mission Meet the Contestants, Chuck acquires a key to Leon's Combo Bay and a green dirtbike.
In Off the Record, after defeating the psychopath Chuck Greene during the mission People Like Us, Frank also acquires a key to the Combo Bay and a green dirtbike.[1]
The dirtbike, located in the Combo Bay on the Silver Strip's north end, will respawn every time the player enters another area with a load screen.
Tutorial screen:
BIKE MODIFICATIONS
Chuck is an ex-motocross racer and can modify motorbikes in a variety of ways.
Bring a bike to the Combo Bay and combine it with weapons or paint.
Experiment with different combinations and ride in style!
The dirtbike is the only vehicle the player can customize with new paint jobs or modifications. The player cannot paint the Chopper or the mercenary bike.
The following is a list of every item that the player can combine with the bike:[2]
Firing while moving forward can cause Chuck to take damage, as the bike travels faster than the rockets.
Chuck can find the weapons needed to make the Rocket Launcher at the start of Silver Strip, just next to the entrance to the Slot Ranch Casino.
It is one of the few combo weapons that is made out of another combo weapon.
Weapon Animations

Animation name
Animation shared with
male_attack_1hand_1_to_5_miss

Bazooka Bike (Rocket Bomber)



male_attack_samurai_sword_a

Arrow explosive -- Blambow?
ATM bankrun -- Bank Run?
Bazooka Bike
ChainLink
Golfball - Golf Club
Intestine
References
Edit
↑ "cMissionDefinition TrailerUnlock" in missions.txt
↑ Stratton, Stephen (2010). Dead Rising 2 Prima Official Game Guide. Prima.