"Get ready to fill up on some of the finest smokehouse pork in Fortune City. We slow roast and double baste our premium grain-fed young swine until the juices burst through for your eating pleasure. "
—Map Description
Bennie Jack's BBQ Shack is a restaurant in the Americana Casino of Fortune City in Dead Rising 2 and Dead Rising 2: Off the Record.
It is a two floor restaurant which allows for access onto the lights from which the player can reach a balcony with money, weapons, and Zombrex also. In Off the Record, there is no Zombrex, but instead, a security box key for the Fortune City Bank.
Items
[
]
Food Items
[
]
Trivia
[
]
The menu behind the counter contains all matter of strange messages and items such as:

Dopefish. Dopefish is a fictional fish that originated in the fourth Commander Keen video game, Secret of the Oracle, released in 1991. The character has since evolved into a PC game industry in-joke, making appearances in games.
Slave Pig, with names in lieu of prices, and
Todd Muffin.
Ananas is a genus which includes pineapple
Durian is the fruit of several tree species
Full Menu
PLATTER

20 oz. STEAK 8.99

PULLED PORK 7.99

RACK OF RIBS 9.99

W/BEANS AND MAYOR E. BERRY

Bennie Jack BBQ SHACK

Glorious BJ Manager:

"Ahh. Delicious Berry."

Assistant BJ Manager:

"Oh! Did you see Berry?"

SANDWHICH

BEEF DIP 4.99

ROAST BEEF 3.99

CLUB HOUSE 5.49

SLOPPY JOE 3.99

ALL PRICES - EAT SOME BERRY WHILE YOU WAIT.
BBQ

Directions:

It comes from a cow, put it in your mouth and masticate. At some point, It'll be digested and you won't be hunger.

| | | | | |
| --- | --- | --- | --- | --- |
| | SML | MED | LRG | BJ'S |
| STEAK | 8.99 | 11.99 | 14.99 | 19.99 |
| DOPEFISH | 9.99 | 12.99 | 15.99 | 22.99 |
| BIG SANDWICH | 5.99 | 8.99 | 13.99 | 19.99 |
| SLAVE PIG | GAV | MATT | DTYLR | RICHB |

I GUESS YOU MIGHT WANT TO EAT A STEAK

ENTREES

ON CHICKEN:

LET'S TALK A MINUTE ABOUT CHICKEN.

CHAPTER 2:

That salmonella business is no laughing matter. I knew a guy who had it once.

| | | | |
| --- | --- | --- | --- |
| | MED | HEHH | |
| CHKN. FINGERS | 8.49 | 12.99 | WHAT DELICIOUS |
| FREEDOM FRIES | 4.99 | 6.99 | PRICES WE HAVE |
| ONION RINGS | 6.99 | 8.99 | |

NOTHING IS WRONG WITH OUR CHICKEN

BEVERAGE

| | | | | |
| --- | --- | --- | --- | --- |
| | SML | MED | LRG | BJ'S |
| SODA | | | | |
| DURIAN | | | | |
| PURPLE STUFF | | | | |
| BEER (BOTTLE) | | | | |

TODAY'S SPECIAL: "SWIM, SWIM, HUNGRY"

HEY, I LIKE DRINKS, AND I BET YOU DO TOO. THE MORE DRINKS YOU HAVE, THE MORE DURIANS YOU'LL EAT, STEAK TOO I GUESS.

DESSERT

WHEN IT COMES TO DESSERT, OUT MOTTO AT BJ'S IS SIMPLE: LET YOUR DENTIST SORT IT OUT.

| | | | | |
| --- | --- | --- | --- | --- |
| | SML | MED | LRG | BJ'S |
| PARFAIT | | | | |
| ANANAS | | | | |
| LE CREME | | | | |
| GUS-BUN | | | | |

| | | |
| --- | --- | --- |
| TODD MUFFIN | | |
| FRANZIBAR | | |
| PRETTY CREAM | | |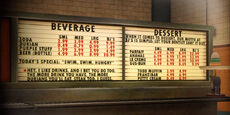 Gallery
[
]
References
[
]