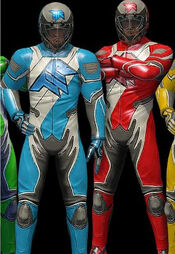 Bobby Newland was a contestant in the seventeenth season of Terror is Reality, but was removed from the show for unknown reasons but was erroneously still listed as a replacement in the events program guide. Like all of the other contestants, he is a survivor of the Las Vegas zombie outbreak. He has worked for 10 years in the Salt Lake City sanitation department.[1][2][3]
References
Edit
↑ Johnny Pipes, #Liveblogging: *Actually* Live!! *Actually* at TiR!! *Actually* Now!, Tape it or Die, (August 11, 2010).
↑ Wallace Hertzog, Tape it or Die, Comparing the Terror is Reality Contestants, "Bobby Newland: This guy's harder to find information on. He's another Vegas survivor. He apparently works in the Salt Lake City sanitation department. He once reviewed a book on Amazon, and gave it 4 stars. That's about it. His name is pretty weak, though." (2010 07 27).
↑ a b Game text: "90145 Our first contestant is also a survivor of the Las Vegas outbreak. He's been a sanitation worker for 10 long years. Let's hear it for Bobby Newland! Our second contestant comes to us from the original zombie playground - Willamette Colorado. He's also a world champion barista! Welcome Roland Nichol! Our third contestant... he raced his way directly out of Las Vegas and onto our stage tonight. He's Leon Bell - motorcycle enthusiast!"
Community content is available under
CC-BY-SA
unless otherwise noted.