CDs is a weapon in Dead Rising. It is a optical compact disc used to store music.
They can be found at any media store in the mall. Every stack has 30 CDs stored in them. Frank throws them at zombies like gems. The difference is that Frank cannot attack multiple enemies with one shot.
Primary: Tap the button to automatically throw a CD at the nearest zombie.
When the Throw stat is maxed out, the CDs will also deal additional damage from headshots, instantly killing any zombie.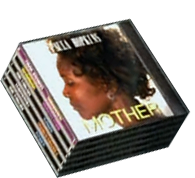 The five pack of CDs in every store throughout the mall are the same.
Like books, CDs almost always drop on the back side unless bumped while they are dropping.
In the game the weapon action icon shows CDs plural, not CD, singular.
When carrying the CD, the photo is of a Paula Hopkins CD entitled "Mother", which is the top of the five pack of CDs.
When Frank drops the CD, the CD showing is the CD on the bottom, which is Jimmy Ryan's CD entitled "Slide", unless the CD is bumped while dropping.
To view an extensive list of every album sold in stores, click "show".
R&B
| | |
| --- | --- |
| Artist | Song |
| Songs | D Boys |
| Greatest Hits | Billy Johnson |
| Policy | Jessica Murrow(?) |
| Bravely | ? |
Rap/Hip-Hop
| | |
| --- | --- |
| Artist | Song |
| High Pressure | ? |
| Wild Vamp | Steelemnk(?) |
| Heartless | Daryl Bone |
| Greatest Hits | Tommy Allen |
Pop/Rock
| | |
| --- | --- |
| Artist | Song |
| Despicable | The Monads |
| Gain Control | Eraser Gr?t |
| One's Way Home | ? |
| Meteor | JP Kellams |
| Infection | Winslow |
| Ambitious | Ajome Boy |
| Electrode | Willie ? |
| Eden | ? |
| Passion | Marmons |
| Animated | Humpty Dumpty |
| Crackdown Theory | Monocle |
| Punch Drunker | Brandon |
| Panic | Worker Ant |
| Road to Saint | Richon's Ring |
| Sude | Jimmy Ryan |
| Wanted | Crisliper |
| Love Spur | Colendy(?) |
Other Genres
| | |
| --- | --- |
| Artist | Song |
| Great History | Terry Duncan |
| Sweatest | Edger Hamilton |
| Butterfly Voice | Eliza |
| Greatest Hits 1997-2006 | Bob Gayce |
| Annad's(?) World | Sarah Jones |
| Big Liar | Hampers |
Blues
| | |
| --- | --- |
| Artist | Song |
| Blue Voice | Aian Smith |
| Simple Life | ? |
Jazz
| | |
| --- | --- |
| Artist | Song |
| Jazz Box | Anthony Duff |
| Long Tone | Golden Bros |
| The Best | ? |
| Always | Kevin Willie |
| ? | Antonio Joe |
| Jazz World | ? |