Case 0-3: Broken Bike is the third mission in Dead Rising 2: Case Zero.
Chuck must push the utility cart carrying the broken bike inside from the Quarantine Zone back to the Brockett Gas Station Safe House.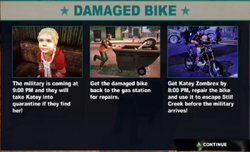 The information screen states:
The military is coming at 9:00 PM and they will take Katey into quarantine if they find her.
Get the damaged bike back to the gas station for repairs.
Get Katey Zombrex by 8:00 PM, repair the bike and use it to escape Still Creek before the military arrives!
After the information screen, the case begins with Chuck behind a utility cart. Push
to begin pushing the cart. Follow the guide arrow, backtracking back to the gas station.
As Chuck pushes the cart near the door to the safe house shed, the brief full black load screen starts, and a cutscene begins.
Conversation with Katey
Conversation with Katey cut scene

Chuck is looking over the motorbike body with a clipboard.




He hears Katey moaning in her sleep and walks over. He puts his hand on her leg and she wakes up and begins to rise.




Chuck: Hold on honey, everything is going to be just fine.


Chuck: Daddy's gotta go get a few things.


Katey: Daddy, I don't feel so good.


Katey: Can I have some more of that medicine now?


Chuck look at his watch.




Chuck: I can't give it to you too early honey.


Chuck: It's dangerous, you'll get too much.


Katey: Can you fix the motorbike Daddy?


Chuck stands and looks at the motorbike.




Chuck: Daddy can fix anything.
Continue to the next article in the walk through, Case 0-4: Find Bike Parts.
Community content is available under
CC-BY-SA
unless otherwise noted.