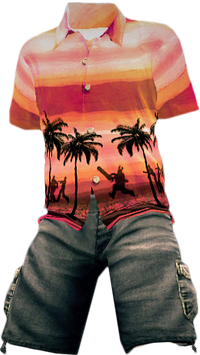 The Casual Beachwear is clothing found in Dead Rising 2. It is found specifically in:

Shots & Awe in Americana Casino .
The design on the shirt appears to be a fat man wearing a viking helmet chasing zombies with a chainsaw.
The clothing dispenser for this clothing is called "HawaiianShirt2shortsDispenser" in the PC file items.txt.
Community content is available under
CC-BY-SA
unless otherwise noted.