"Children are geniuses when it comes to play. Come see our selection of toys designed to inspire your child and bring out the genius within."
—Willamette Parkview Mall Map
Child's Play is a toy store on the first floor of Paradise Plaza in Dead Rising.
It is one of three toy stores in the Willamette Parkview Mall, filled with tons of toys and books for kids of all ages. The most notable attraction in the store is the large Servbot statue.
On the second day, a pair of twins can be found in the store during the unmarked scoop Twin Sisters.
Items
[
]
Merchandise
[
]
See Ye Olde Toybox for many of the toy textures found in this store
To view an extensive list of every merchandise Child's Play has for sale, click "show".
Besides the usable items in the list above, there are other items such as toys, games and puzzles that can be found for sale:
Child Gym play-sets
Hyper Air Hockey
Bow Wow Bang Party Puzzle Game
Captain Smiley toy plane
Blue Pretender toy plane
Pitter Patter chatter teeth
Train Train Steam Locomotive toy
Woody Truck wagon
Voice Changer megaphone
Pretty Bear stuffed animals - Brown, Green & Pink
Plastic Family dolls - Andy & Cyndy
Playing cards
Woody Friends figures
Dancing Piggy banks
Kids Tools set
Play Vehicles - tractors
Wooden model cars
Rabot the Robot toy
Robot action figures - Titan-A & Galleria-2
Ratman and Mabanero action figures
Exciting Bowling set
Fickle Duck toy
Yummy Burger featuring Ticky the Fox
Hello! Mikey toy phone
Cobby's Orgel puzzle
Juddy Land toy
Several posters
Singing Birds - Toucan, Parrot, Canary
STARS Home Planetarium set
Speed Kids Home Circuit race cars
Olivia's Country House doll house
Mr. Baller gumball machine
Play Kids figures
Rainbow Tam Tam
Piccolo Funny Tone toy piano
Magnetic Doodle easel
Animal Land toy animals
Knockout! boxing gloves - Red & Blue
Little Kitchen - Blenders & Ovens
Dolls - Nancy, Anna & Hitomi
Cindy doll
My Little House play set - Cherry Dome
Action Rex - Fire & Jungle (dinosaur)
Action Rex - Red Flash & Blue Storm (motorcycle)
Rocket Ship & Gun space toys
Megaman action figure
Battle Borg Joe - Joe & Genoa
3D Jigsaw Puzzle
Ratmarine vehicle
Galaxy Mutants action figures
Playhouse Food - Fruits & Vegetables
Sweets Panic toy food
Melody Chuck musical bear - Brown & White
Toddle Duck toy
Patter Tomato toy
Deluxe Action Figure - Toy-Rex Super Dinosaur - Blue & Green
Cheer Caterpillar Building Blocks
Pom Pom Duckie beanbaag
Several picture books:
2 Arnold the Cricket
Boolion the Friendly Wolf
Sam's Journey to the Clouds
Robot Giraffe
Honey Bear
Princess Gerbera
2 Candy Apartment
Purple Panda Rainbow Adventures
Underwater School
Mr. Choo Choo and the Chocolate Bar
Elephant and Lion's Wedding Party
Frogs Sing the Blues
Tiddly Piddly goes Puddlehopping
Santa's Workship: The Elf Story
Little Cheese Head
Bathin' Adventures
Susie the Moed Up Duck
one unidentifiable book
Clothing
[
]
Prestige Points
[
]
There is a Special Prestige Point Bonuses in this toystore.
Frank can hit the Servbot head to realign it for 10,000 prestige points.
Use Frank's spit for small movement changes. To spit,hold

while pressing

while Frank is not equipped with an item. Unequipping an item is done by pressing

.
PP Stickers
[
]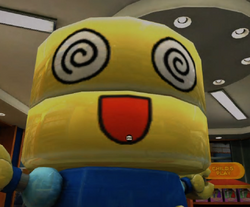 On the back of the giant Servbot statue.
Trivia
[
]
The name Child's Play comes from a 1988 American horror movie, in which a serial killer possesses the body of a doll.
One guide states that weapon damage can be tested on the Servbot Head. The rotation is an excellent indicator of damage dealt. The Real Mega Buster and Laser Sword rotate the Servbot Head almost exactly 1.5 times, the most of any weapon. A Toy Laser Sword makes the head move fewer than five degrees.[1]
Pamela Tompkins technically isn't in this store, but rather right outside it in the moat.
Child's Play is also the name of a charity founded by Penny Arcade creators Mike Krahulik and Jerry Holkins in 2003. It donates various toys and video games to sick children at hospitals worldwide.[2]
Gallery
[
]
References
[
]