The computer case is a weapon in Dead Rising 2 and Dead Rising 2: Off the Record.
It can be combined with a flashlight to create the Hacker.
Attack
[
]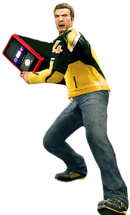 Combo 2: On the third consecutive tap, Chuck will use the computer case like a ram, charging ahead.
Locations
[
]
Trivia
[
]
AlternateTextureName0 = "data/models/weapons/computercase_ylw"


AlternateTextureName1 = "data/models/weapons/computercase_grey"

AlternateTextureName2 = "data/models/weapons/computercase_green"

The cash register has the same game controller combination and attack animation as the computer case. The battery and amplifier have the same attack animation.
Weapon Animations

Animation name
Animation shared with
male_attack_cardboardbox_c

Computer Case

male_attack_smallbox_7_to_3

Computer Case
Corpse Attractor
Gallery
[
]
References
[
]
↑ For example, in the PC file yucatan_casino.txt (Yucatan Casino) is the alternate skin:

cItemPlacement ComputerCase
{
 IsStatic = ""
 ItemName = "ComputerCase"
 Location = "299.614,0.068,-247.868"
 PropState = "-2"
 Rotation = "-0.001,-0.476,0.000,0.879"
 TextureSubType = "2"
}