Connie is a victim in Dead Rising and Dead Rising: Chop Till You Drop.
She was seen trying to escape the zombie outbreak in Willamette with her daughter Dakota.
Opening Cinematic
Edit
Connie was seen driving to Willamette with her daughter Dakota. Approaching Willamette, she sees the town in a state of chaos. Distracted by this, the car collides with a truck exiting the town. Temporarily knocked unconscious, the two were attacked by the zombified driver; but were protected by the car.
Connie is knocked momentarily unconscious, and regains consciousness as several dozen zombies close in on them. She attempts to start her car, but the engine fails after several attempts. She and Dakota are presumably killed by the zombies, although their fate remains ultimately unknown.
Connie and Dakota, bear a striking resemblance to Cliff Hudson's daughter and granddaughter in the photo in his wallet.[1]
Frank never encounters Connie or Dakota, so neither character is listed in Frank's notebook. They do, however, appear in the Characters section of in the game manual.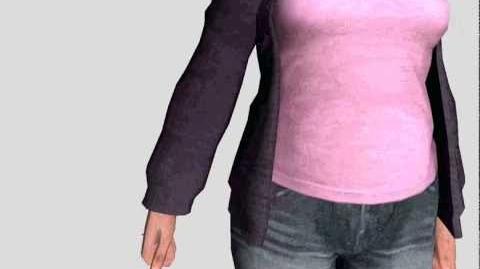 References
Edit
↑ Dead Rising: The Big List Of Stuff, Newcenstein.