Fire Emblem Warriors: Three Hopes - The Loop
Play Sound

Dead Rising 2: Case Zero is an exclusive downloadable game for Xbox Live Arcade, released on August 31, 2010 in North America and Europe. The game's release in Japan was late, due to concern about the game's content.[1]
The game costs $4.99 on the Xbox Live Marketplace and bridges the link between the events of the first Dead Rising and Dead Rising 2. It is one hour long, equivalent to 12 hours in Dead Rising time. In February 2014, the game became free to download for users with an Xbox Live Gold Membership for the month. 
The game takes place two years after the events of the original Dead Rising, and three years before the events of Dead Rising 2. It was re-released with the Dead Rising Collection.
Gameplay Features
[
]
Chuck will still be able to level up and craft weapons, but is only able to reach level 5.
There are only 9 combo weapons available.
There are 10 saveable survivors.
An important feature of Case Zero is the ability to take any progress learned by the player (such as levels and weapons) and transfer them to Dead Rising 2. This allowed Xbox 360 players to get a head start on leveling up before Dead Rising 2 was released.
Exclusive items, including costumes which can be unlocked for Dead Rising 2 by playing Case Zero, including Overalls, the Hunting Jacket, the Diner Waitress and the Bowling Shirt.
Unlike both Dead Rising and Dead Rising 2, there is no transceiver. Instead, Bob Blackrock announces any survivors that he's seen in a location around town.
Story Mode
[
]
Case Zero takes place over a 12-hour (in game) period. There is no other mode available.
Story
[
]
Acting as a prologue to Dead Rising 2, Chuck Greene flees Las Vegas with his daughter Katey after an outbreak occurs, his wife dying at some point during it. In need of fuel and looking to stock up on supplies, Chuck and Katey stop at the gas station in the small desert town of Still Creek. After giving Katey a dose of Zombrex, Chuck has a look around town after hearing an explosion. Hearing screams and gunfire, he looks outside to see a large plume of smoke over the containment zone further down the road. Then someone steals Chuck's truck, leaving the two stranded, just as zombies begin to infest the town. They take shelter in the gas station and barricade the entrance. With Katey needing a shot of Zombrex very soon, Chuck searches Still Creek for the drug and a way out of town.
After traveling through the small town, Chuck then discovers a road block with an overturned ambulance, which has Zombrex inside. During his search for Zombrex, he overhears a broadcast from a dead soldier's radio, saying that a backup quarantine crew will arrive at Still Creek by 9 PM. Chuck finds a motorbike, which he determines can be repaired. Loading it up on a trash cart, He takes the motorbike back to the gas station. Chuck examines the motorbike and determines that he will need five parts to repair the bike. As he searches town for the bike parts, he finds a handful of survivors in need of assistance, including the local pawnshop owner, who offers to sell his wares when rescued, including a spare wheel. Chuck meets Jason Wong and Archie Eaton fending off zombies behind the Department Store, with Jason giving Chuck the handle bar he uses for a weapon. After collecting all five parts of the bike, he repairs the bike just in time to give his daughter a dose of Zombrex.
Immediately after giving his daughter Zombrex, he must fight a psychotic mechanic. As Chuck and his daughter begin to leave Still Creek, the military arrives. Chuck barely manages to escape town with his daughter as the military clean the town of undead.
As Chuck and his daughter are driving along the desert road, they come upon the stolen truck, and the thief dead in the driver's seat. Chuck collects their belongings and his motorcross jacket. He puts on the jacket, then gets back on the motorbike, and they ride away.
Timeline
[
]
Chuck Greene spends up to 14 hours (70 minutes real time), rescuing other survivors of the zombie outbreak, attempting to get Zombrex for his daughter Katey and finding a way to escape Still Creek before the military arrives.
| | | | | | | |
| --- | --- | --- | --- | --- | --- | --- |
| Real Time[2] | 1 sec. | 5 sec. | 25 sec. | 50 sec. | 1 min. | 1.4 min. |
| Game Time | 12 sec. | 1 min. | 5 min. | 10 min. | 12 min. | 20 min. |
| | | | | | | |
| --- | --- | --- | --- | --- | --- | --- |
| Real Time | 3 min. | 4 min. | 5 min. | 20 min. | 1 Hour | 2 hours |
| Game Time | 36 min. | 48 min. | 1 Hour | 4 Hours | 12 hours | 1 Day |
Case Zero begins on September 12, at 7:00 am and at the latest, ends at 9:00 pm (21:00 hours) the same day.
↓
Dark. Zombies more     aggressive.
7 am
8 am
9 am
10 am
11 am
12 pm
1 pm
2 pm
3 pm
4 pm
5 pm
6 pm
7 pm
8 pm
Notification of time until military arrives
[
]
After finishing Case 0-2: Find Zombrex, every time Chuck leaves the safe house, he will be reminded how much time until the military arrives.

Zombies more aggressive at dark
[
]
Endings
[
]
There are 6 possible endings that the player can achieve in Case Zero. The final ending will reflect on Chuck's actions during his stay in Still Creek.
There are six possible endings with three possible cut-scenes.[5]
Ending
Accomplishments
Cutscene
PP bonus
Video
Case 0-3 Return bike
Give Katey Zombrex
Complete bike
Get on bike
Escape town
A
Escape town
15,000
Chuck successfully builds the motorbike and navigates through the town, now infested with troops. Afterwards you escape into a tunnel and head on out back into the world. On the way, the truck is found with the dead thief inside. Chuck takes his jacket, Katey's bag, a photo of Katey and three boxes of Zombrex from the car. Then Chuck heads back to the bike, gives Katey her bag and drives away. All cases had to have been completed, Katey has to be given her Zombrex, and the bike has to be done to achieve this ending.
B
Katey quarantined
10,000
Chuck finishes the bike and gives Katey her Zombrex, but doesn't get away in time. This ending is very similar to ending D where the bike is not built. To obtain this ending, Katey has to be given Zombrex, all cases has to be done, the bike must be finished (one difference from Ending D) but you mustn't escape when on the bike, instead let the time run out.
C
Katey quarantined
5,000
Ending
Accomplishments
Cutscene
PP bonus
Video
Case 0-3 Return bike
Give Katey Zombrex
Complete bike
Get on bike
Escape town
This ending happens when time runs out once the bike is finished but Chuck does not get on it on time. As in B and D the military takes Katey and Chuck is knocked unconciuous. To obtain this ending, Katey has to be given Zombrex , all cases have to be done, the bike must be finished (difference from Ending D) but you mustn't get on the bike, instead let the time run out (difference from ending B).
D
Katey quarantined
2,000
Chuck does not manage to build the bike in time. The military takes Katey into quarantine and knocks Chuck unconcious with the butt of their rifle. What happens after he is knocked out is unknown. To achieve this ending, Katey has to be given the Zombrex, but the bike must not be fixed.
E
Katey quarantined
1,000
F
Katey zombified
0
Chuck fails to give Zombrex to Katey which results with Katey's zombification. To get this ending, never give Katey her daily dose of Zombrex. There are two versions of this ending.
Ending
Accomplishments
Cutscene
PP bonus
Video
Case 0-3 Return bike
Give Katey Zombrex
Complete bike
Get on bike
Escape town
Reception
[
]
Dead Rising 2: Case Zero has earned generally positive reviews.
Capcom announced that Case Zero had the best week-one sales of any content available on Xbox Live Arcade. "As of (September 7, 2010) the Leaderboards show that over 328,290 players have given Case Zero a go, and that's in less than 7 days - an amazing feat. Money wise, assuming Microsoft take a 30% cut on the game, Capcom could well have made $ 1,149,015 off of it for this week alone."[17][18]
CBS News stated, "For a sequel to a four-year-old game, Dead Rising 2: Case Zero is surprisingly lacking in innovation. With the lack of either offline or online co-op, we also don't get a chance to try out Dead Rising 2's other major selling point as well, which diminishes Case Zero's overall re-playability value...And by the time Dead Rising 2 hits stores, you'll likely never play Case Zero again. The story is a bit of a throwaway in the grand scheme of things, so you will not be missing out if you choose to skip this one, but if you've been itching to get your hands on some third-person zombie action right now and cannot wait for the full release, then Dead Rising 2: Case Zero is a great little slice of just exactly what you're looking for."[19]

Credits
[
]
Full credits
DEAD RISING 2
Capcom Presents a Blue Castle Games Inc. Production
Executive Producer
Keiji Inafune
Producer
Shinsaku Ohara
Executive Director
Yoshinori Kawano
Lead Game Designer
Hayato Tsuru
Game Designers
Yuji Hayakawa
Toshiya Iwaoka
Art Director
Naru Omori
Communications and Translation
Jon Airhart
Blue Castle Games Inc.
Executive Producer
Rob Barrett
Senior Producers
Josh Bridge
Jason Leigh
Producers
Brent Arnst
Robert Baxter
Tom Green
Patrick Harris
Roy McCombe
Megumi Muto
Johnny Oh
Kevin Scherbey
Project Director
Robyn Wallace
Senior Project
Manager Rob McMurtry
Project Managers
Francis Chan
Cindy Currie
Shelley Klann
Darren Martz
Steve Melchiorre
Daryl Smith
Level Designers
Brian Boog
Jeff Chang
John Ellenton
Curtis Meyers
Randolph Stayer
Writer
Annie Reid
Technical Directors
James Hall
Tom Niwinski
Dee Jay Randall
Lead Gameplay Software Engineer
Sam Sheth
Gameplay & Missions Software Engineers
Tane Adam
Dan Brown
Francois Chabot
Germain Le Chapelain
Adrian Cheung
Yann Cleroux
Chuck Chow
John Barrington Craggs
Craig Hall
Brad Kram
Bronson Lysy
Dan O'Connor
Zach Olesh
Thomas Shaskin
Lead Front End Software Engineer
Ehsan Rezaie
Front End Software Engineers
Nicole Dempsey
Lena Lee
Lead Online Software Engineers
Bashar Taha
Stephen Yeung
Online Software Engineers
Hui Chen
Eric Freytag
Ming Huo
Chris Kimberley
Jack Sun
Lead Economy Software Engineer
Scott Barcik
Economy Software Engineer
Andy Adam
Lead Audio Software Engineer
Victor Chow
Audio Software Engineers
Jason Jarvis
Bob Purewai
David Wong Chin Man
Lead Boss Battles Software Engineer
Haroon Qureshi
Boss Battles Software Engineers
Tim Andersen
Jason Chin
Steve Pearce
Lead Tools Software Engineer
Tim Roy
Tools Software Engineers
Porter Bae
Tony Jiang
David Payne
Ryan Pearson
Rendering Software Engineers
Peter Andrews
Seongmin Hong
Dmitry Medvedev
Pavlo Penenko
Johann Seidenz
Art Zaratsyan
Art Director
Dave Taylor
Technical Art Director
Richard Burgess-Dawson
Lead Front End Artist
Jeff Buchwitz
Front End Artists
Uarrn Phann
Lead Front End Artist
Jeff Buchwitz
Front End Artists
Marco Chang
Barry McDermott
Lead Environment Artist
Chris Babic
Environment Artists
Rob Aduna
Rhiannon Catton
Alan Jarvie
Sephine Kuan
Li Lao
Feng (Frank) Liu
Dillon Petty
Matt Sheppard
Kevin Shi
James Stout
Yun Kyung (Judy) Suh
Lead Character Artist
Izmeth Siddeek
Character Artists
Lisa Griffiths
Jun Huang
Maciej Krol
Antonio Siu
Echo Yu
Lead Weapons and Props Artist
Burke Revet
Weapons and Props Artists
Shih-Kai Chang
Dave Wang
Cinematics Directors
Matt Leigh
Shane Welbourn
Pre-Rendered Videos
Brad McGiveron
Cinematics Artists
Stephen Clee
Andrew Ford
Leo Ito
Jim Kang
SangHo Lee
Ben Staples
Mark Wong
Lead Animator
Terry Sanderson
Animators
Steve Cady
Steve Chan
Terence Cheng
Desmond Duggan
Fredrick Fasse
Austin Kwan
Jeff Martens
Phil Tiqui
Lee Willock
Technical Artists
Ted Charlton
Liam Gilbride
Wade Howard
Concept Artists
Todd Grenier
VFX Artists
Terry Kalinich
Ryan Wilson
Audio Director
Dieter Piltz
Audio Designers
Chris Helsley
Andrew Kalmbach
Devan Kraushar
Jodie Kupsco
Music Composed and Produced by Oleksa Lozowchuk
Development Support Lead
Anim All
Development Support
John Calvert
Jeff Uegama
Skylar White
Production Coordinator
Stevie Van Skiver
Additional Programming
Bobby Paulose
Chris Petkau
Special Thanks
Chris Albeluhn
Cindy Chow
Krisztina Collins
Ben Crouse
Kraig Docherty
Lynda Donnachie
John Fasal
Mary Jo Lang
Ryan MacDougall
Alyson Moore
Colleen Poeta
John Roesch
Melissa Schellenberg
Christian Sherwood
Michelle Versteeg
Bryan Watkins
David Zaballero
Voice Talent
Main Characters
Chuck Greene
Peter Flemming
Katey
Allyson Armstrong
Psycho - Mechanic
Brian Dobson
Survivors
Doug Abrahams
Nikki Burke
Brian Dobson
Paul Dobson
Laara Gilchrist
Scott McNeil
France Perras
Stevie Van Skiver
Zombies
Nikki Burke
Victor Chow
Patrick Harris
Chris Helsley
Andrew Kalmbach
Devan Kraushar
Jodie Kupsco
France Perras
Jeremy Sabo
Isaac Vonderau
And the DR1 Zombies
Misc Voice Overs
Slot Machines
Cindy Currie
Andrew Kalmbach

Additional Music by
The Humble Brothers
Jeremy Soule (and Julian Soule)

Cellist Blair Lofgren
Violinist
Ashley Plaut
"Kill The Sound"
Written and Produced by OL and Klayton/Celldweller
Additional vocals produced by the Humble Brothers
Mixed by Grant Mohrman/Klayton
© CAPCOM CO., LTD. 2010 ALL RIGHTS RESERVED.
Indemnify
Written, Produced and Mixed by The Humble Brothers
Published by River Lakes and Traz Music Publishing
© 2010 The Humble Brothers
"The Best It's Gonna Get"
Written by Klayton
Performed by Celldweller
Courtesy of FiXT Music/Position Music
Published by Celldweller Music

DBC Sound inc.
Binari Sonori S.r.l.
Dhruva Interactive
Rainmaker Motion Capture
The Background: Voice Recording
Alistair Able: Voice Direction
Wayne Kozak Audio Productions: Recording Studio
Scott Stewart: Dialogue Editing
Tim McKenzie: Dialogue Editing, Gameplay & Cinematics
A big special thanks from the team at Blue Castle Games to all of our family and friends for supporting us during the development of Dead Rising 2!
Quality Assurance
Quality Assurance Managers
Masayasu Mukai
Tomokazu Kudo
Lead Tester
Yuki Son
Assistant Lead Tester
Assistant Lead Tester
Yasuo Takayama
Testers
Miki Fujiki
Yousuke Sato
Kazushige Funada
Masahiro Fujita
Yasumasa Urano
Issei Ueda
Kozue Akamatsu
Customer Team
Shogyoku Gen
Minako Murakami
Yoshinobu Harada
Publicity Team
Ryosuke Hagiwara
Takako Akutagawa
Mitsuhiko Ikegami
Promotion Team
Tsutomu Masuda
Manabu Okamoto
R&D Promotion
Kunio Funahara
Kosuke Nakano
Moto Shinobe
Intellectual Property
Management
Masakazu Hashida
Kyosuke Takahashi
Jumpei Isejima
Yuko Yasuda
Ayumi Mimura
Noriko Watanabe
Shizuka Fujita
International Business Administration
Yuji Ito
Masayuki Fukumoto
Ayumi Kambara
Yohko Kawakami
Capcom Entertainment Europe Ltd
European Marketing Manager
Mickey Torode
European Product Manager
Dominic Matthews
European Marketing Director
Michael Pattison
Director European PR and Community
Ben Le Rougetel
Senior Online Marketing and Community Manager
Chiara Woolford
Marketing Coordinator
Shigemi Tanaka-Lee
CAPCOM Entertainment Inc.
Marketing Vice President
Mona Hamilton
Marketing Brand Marketing Director
Mike Webster
Marketing Product Manager
Mike Schmitt
Marketing PR Senior Manager
Melody Ann Pfeiffer
Marketing PR Associate Manager
Wes Phillips
Marketing PR Community Senior Manager
Seth Killian
Marketing PR Community Manager
Joveth Gonzalez
Marketing PR Community Specialist
Shawn Baxter
Marketing Coordination/Support Director
Kaori Tsukuda
Marketing Coordination/Support Manager
Tsuvoshi Kanda
Marketing Creative Service Senior Director
Francis Mao
Marketing Creative Service
Derek Van Dyke
Licensing Business Development Senior Director
Seon King
Licensing Business Development Director
Josha Izzo
Licensing Operations Director
Steve Lee
Licensing Operations Traffic Coordinator
Brian Oliveira
Licensing Creative Manager
Will Hirsch
Licensing Administrator
Shawna Towler
PD Technical Support Director
Takashi Kubozono
PD Operations Manager
Dave Witcher
PD Quality Assurance Manager
William James Rompf II
PD Quality Assurance
Greg Lewickyj
PD Quality Assurance
Derek Neal
PD Quality Assurance
Taek Yun
Business Development and Strategic Planning Vice President
Christian Svensson
Special Thanks
Noriyuki Miyane
Toyoshige Hanaoka
Norihiko Kawabata
Tetsuto Koyama
Mitsuko Yamamoto
Shuji Takagi
Yoshihiro Kura
Yohko Kawakami
Setsuo Yamamoto
Arata Iwashina
Masako Homma
Shinichiro Komizu
Satoshi Ukai
Yumiko Uchida
Tomohiro Goto
Shinichi Muraoka
Toshiaki Mori
Haruo Murata
Makoto Ikehara
Minoru Nakai
Ben Judd
David Crislip
Natsuko Osada
Shutaro Kobayashi
Takahiro Tokuda
Shigemi Komatsu
Yasuhiro Matsuo
Keita Nakajima
Mitsutoshi Kurahashi
Asuka Koba
Peter Fabiano
James Wilson
Nobuyuki Matsushima
Masaru ljuin
Yasuhide Sawada
Masaru ljuin
Yasuhide Sawada
Ichiro Yunde
Jun Matsumoto
Kentaro Kaneko
Yuichi Kuno
Tatsuya Nakae
Hiroyuki Minamitani
Mototaka Ido
Koji Yoshida
Akihiro Yokoyama
Katsunori Shinano
Enzyme QA Team
Worldwide Production Manager
Carolljo Maher
Head of Production
Remy Julita
Project Managers
Pascal Faucher
Serge Handfield
Guillaume Jolicoeur
Manuela Martin
Louis St-Denis
Lead Testers
Michael Applebee
Eric Morissette
Testers
Gabriel Anhin
Testers
Gabriel Aubin
Denis Douville
Patrick Goulet
Martin Goyer
Maxime Grenier
Marc-Andre
Jargstorff Maxime
Lanthier Samuel
Raby-Lessard
Olga Levshina
Pavel Shukhman
Japanese Translations Team
Saiko Higashionna
Mitsuko Koike
Junko Takahashi
Kokoro Yoshikawa
The typefaces included herein are solely developed by DynaComware.
The typefaces included herein are partially developed by UNIKOTECH Co.,Ltd.
HAVOK
Dead Rising 2 uses Havok®.
© Copyright 1999-2010 Havok.com Inc. (and its Licensors).
All Rights Reserved.
See www.havok.com for details.
Trivia
[
]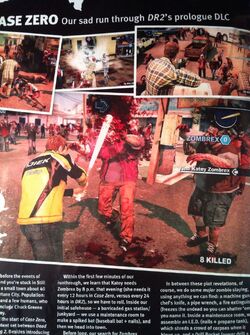 During development, Chuck wearing his standard Ijiek Jacket was up for consideration, as seen in the beta.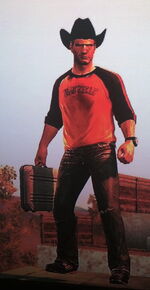 Ending A takes place directly outside the town on the road that Chuck drove on during the intro, with a blurred out Las Vegas backdrop.
In the Dead Rising universe, there is a game called Dead Rising 2: Case Zero, during the zombie outbreak in Fortune City Left Hand Lance blogged on Tape it or Die:
There are some posters around town that are a reference to Valve's Left 4 Dead series. The poster acts as a campaign poster with a title and quote, along with the series' logo (the hand).
There are several bugs in the game, see Dead Rising 2 Bugs#Case Zero.
As seen in the unused game text for Dead Rising 2, apparently there was supposed to be a 911 call that Chuck could overhear or witness, or somehow be presented to the player through other purposes, sometime in Dead Rising 2: Case Zero:
The game developers were inspired by the movie Tremors (1990), The Dirty Drink building looks Similar to the Walter Chang's Market
Videos
[
]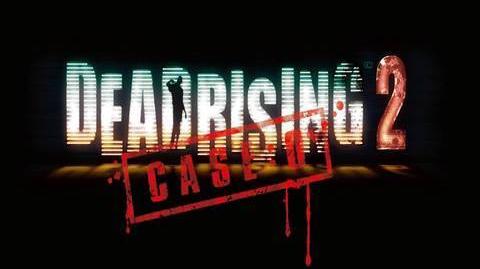 Gallery
[
]
References
[
]