For the Dead Rising 2 book, see Dead Rising 2 Artbook
See also Dead Rising Beta and Dead Rising 2 Beta
Off the Record Concept Art is an illustration where the main goal is to convey a visual representation of a design, idea, and/or mood for use in Off the Record before it is put into the final product. Other than the Skills Packs, all of the concept art on this page comes from the main menu of Off the Record.
Stacey Forsythe
Edit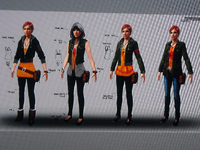 Stacey Forsythe also went through different stages in the beta.

Evan MacIntyre
Edit
Chuck Greene
Edit
Skill packs
Edit
Cliff Rockfoot
Edit
Challenge medals
Edit
Weapons and Combo Weapons
Edit
Wrestler and beginning of game
Edit
Pause Menu
Edit
End of game
Edit
Uranus Zone
Edit
Community content is available under
CC-BY-SA
unless otherwise noted.