No Title

No Title

No information
For Dead Rising 2, see Dead Rising 2 Beta
The Dead Rising Beta version is the version of Dead Rising before it was officially released. The following in information that is known about Dead Rising Beta:
Survivors
[
]
Isabela Keyes is armed with a Barret M82 sniper rifle shooting at zombies in the Entrance Plaza.[2]
Jessie McCarney can be seen running through the Maintenance Tunnels, presumably being chased by zombies. Then the video shows a bloody and possibly dying Jessie sitting against a wall as Frank takes a picture of her.[2]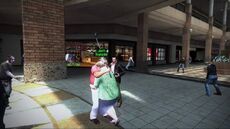 The life bar was gray instead of yellow and psychopaths had their health displayed on the bottom of the screen instead of above their heads.[Verification needed]
Scoops
[
]
In the trailer, the mall entrance doors automatically open at 10 am, allowing the zombies into Entrance Plaza.[2]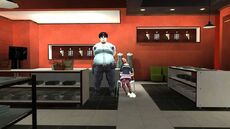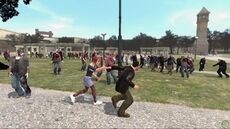 Sophie has a different appearance.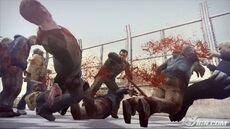 Videos
[
]
Trailer 1: This video is a beta trailer from 2005, pre-game release.
DEAD RISING (Working Title)
"Day one, the day I came here was the worst day of my life. I'll admit it, it was a big mistake. I'm a wartime photo journalist, I've seen it all, horror, famine, death - the real stuff of nightmares. At least, that's what I thought. That was until I saw a corpse, get up, walk, and kill. You probably think I'm nuts. The dead getting up and walking? Zombies? I'm not nuts though. Right now, if things go well, I may get my hands on a pulitzer or something. Its not like you hear about too many zombie stories in the news these days.
So I guess there are only two things left to do. Film everything I can, and survive until help arrives."
The song that plays after Frank stops talking is Cletus Samson's theme.
Gallery
[
]
See also
[
]
References
[
]
Dead Rising Overview
Scoops
 

12am
Dressed for Action
12am
A Strange Group
1am
Gun Shop Standoff
1am

Floyd The Sommelier

2am
The Drunkard
5am
Long Haired Punk
8am
A Sick Man
8am
The Woman Left Behind
12pm
Photographer's Pride
12pm
Kindell's Betrayal
12pm
A Woman in Despair
5 pm
Paul's Present
7 pm
Simone the Gunslinger
8 pm
Cheryl's Request