New Pokemon Games - The Loop
Play Sound
For the Case Zero bike, see Motorbike.
The dirtbike is a vehicle in Dead Rising 2 and Dead Rising 2: Off the Record.
There are two dirtbikes that the player can drive: a red dirtbike that stands in front of the Fortune City Arena that is unlocked upon starting the mission Meet the Contestants, and a green dirtbike that is found in the Combo Bay on the north end of the Silver Strip that is unlocked after defeating Leon Bell.
The dirtbike can kill up to 250 zombies before breaking, unless the player crashes, in which case the possible kill count is lowered. It can be combined with various weapons to create many different combo bikes, or with spray paint to change its appearance. Its durability can be increased with the Bikes magazine.
Riding
[
]
Vehicle modifications
[
]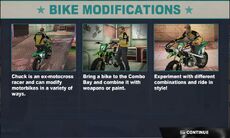 In Dead Rising 2, after defeating the psychopath Leon Bell during the mission Meet the Contestants, Chuck acquires a key to Leon's Combo Bay and a green dirtbike.
In Off the Record, after defeating the psychopath Chuck Greene during the mission People Like Us, Frank also acquires a key to the Combo Bay and a green dirtbike.[1]
The dirtbike, located in the Combo Bay on the Silver Strip's north end, will respawn every time the player enters another area with a load screen.
Tutorial screen:
BIKE MODIFICATIONS
Chuck is an ex-motocross racer and can modify motorbikes in a variety of ways.
Bring a bike to the Combo Bay and combine it with weapons or paint.
Experiment with different combinations and ride in style!
The dirtbike is the only vehicle the player can customize with new paint jobs or modifications. The player cannot paint the Chopper or the Mercenary Bike.
The following is a list of every item that the player can combine with the bike:[2]
Trivia
[
]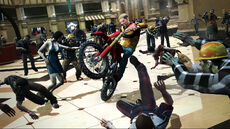 One of the first six pictures, released in February of 2009 announcing Dead Rising 2, shows Chuck riding a dirtbike in front of a Cucina Donnacci with a different facade. See Dead Rising 2 Beta.
This vehicle is referred to as "SuperBike" in the PC game files, including items.txt.
Gallery
[
]
See also
[
]
References
[
]
↑ "cMissionDefinition TrailerUnlock" in missions.txt
↑ Stratton, Stephen (2010). Dead Rising 2 Prima Official Game Guide. Prima.

 
External links
[
]