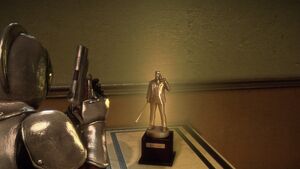 Frank Statues are a collectible item in Dead Rising 3.
There are 70 statues scattered throughout Los Perdidos.
They provide 2,000 PP when picked up for the first 20 statues.
After reaching 20 statues or more, each one afterwards will reward Nick with 5,000 PP when picked up.
They become worth up to 10,000 PP each when 40 statues or more have been collected.
Collecting them all will unlock the Hero Worship PP trial.  
Locations
Edit
Total = 17
Sunset Hills
Edit
Total = 16
Central City
Edit
South Almuda
Edit
A single Frank Statue can be found in Dead Rising 4 as an Easter Egg. Collecting it will grant the achievement Idol Worship.

The description of the achievement itself: "Didn't there used to be more of these?" refers to the collection of them in Dead Rising 3.
Community content is available under
CC-BY-SA
unless otherwise noted.