"Powerful arcs of electric doom have interesting effects on ATMs."
—Combo Card Description
The Hacker is a combo weapon in Dead Rising 2 and Dead Rising 2: Off the Record, made by combining a computer case with a flashlight. In Off the Record, it is renamed the Money Hacker.
This weapon can be used to hack ATMs and slot machines to make them eject more cash than usual, as well as shock zombies. The player can hack ATMs to retrieve $10,000 from each one, four times the normal amount of $2,500. The Hacker can hack about 6-8 ATMs before breaking if used sparingly.
This combo weapon has been described as:
"This is basically a makeshift Taser which can zap zombies at very close range. Limited battery life means you're only able to zap for so long."[1]
Attacks and Combo Card
Edit
 

Hacker

Combo Card

Prestige Points

Primary 50 PP
Alternate N/A

Main Attack
Press
/

Description

Powerful arcs of electric doom have interesting effects on ATMs.

-All prestige points listed here are halved when the weapon's combo card is not owned and the player only has a scratch card.
Weapon Component Locations
Edit
The flashlight and computer case are both available at the maintenance room beside Finders Peepers.
Dead Rising 2 and Case Zero general locations of weapons needed to make the Hacker.
| Component | Location | Component | Location |
| --- | --- | --- | --- |
| Computer Case | See article | Flashlight | see article |
"Hacking" is a popular term for manipulating computer data. It's likely that the device was named for this, noting its ability to "hack" ATMs.
In the Off the Record PC game files, this weapon is called "ATMHacker" (ATM Hacker).
This weapon is a successor to the Stun Gun from Dead Rising.
Unlike in Dead Rising 2, Looters can use the hacker as a weapon in Off the Record.
In both versions of Dead Rising 2, Looters and Mercenaries are weak to the Hacker. A single zap will instantly kill either of them, although it takes a bit longer in the original Dead Rising 2.
References
Edit
↑ Frushtick, Russ. 'Dead Rising 2' Combo Weapons Guide - Duct Tape Is Your Friend, MTV. (August 31, 2010).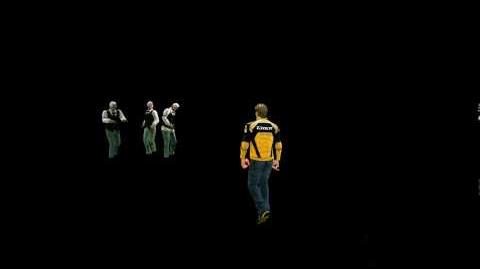 Community content is available under
CC-BY-SA
unless otherwise noted.