"Finally, a hobby shop created by baseball enthusiasts for baseball enthusiasts. Slide on today to browse our selection of collectibles."
—Willamette Parkview Mall
Homerunner's is a sporting goods store on the first floor of Wonderland Plaza in Dead Rising.
It is one of six sports stores in the Willamette Parkview Mall.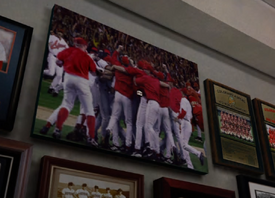 The PP Sticker is on the photo of the baseball team behind the counter on the picture wall.
Homerunner's deals exclusively in baseball merchandise, specifically for the fictional team the Colorado Aspens.
Barbara Patterson is wearing a Colorado Aspens jacket.
In the beginning cutscene, Dakota is wearing a Colorado Aspens baseball cap.
Community content is available under
CC-BY-SA
unless otherwise noted.