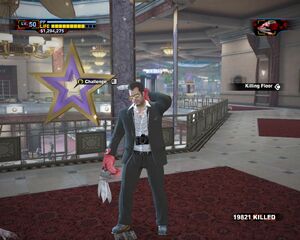 Killing Floor is a single-player Sandbox Challenge in Dead Rising 2: Off the Record.
Location: Palisades Mall, near Kids' Choice Clothing, second floor.
Prerequisites: 1,000 kills
Mission: Gain as much PP as you can in 3 minutes while remaining on the second floor!
Gold (35,000 PP)
Silver (12,000 PP)
Bronze (8,000 PP)
Gold: $60,000
Silver: $30,000
Bronze: $15,000
Strategies
Edit
The easiest way to achieve the Gold medal is by using boomsticks. The secondary attack (with the combo card) will do upwards of 2,500PP per kill. Two boomsticks will be required. Shotguns can be found at the High-Noon Shooting Range on the second floor of the Palisades. A pitchfork can be found stuck inside a planter near the entrance to the Atlantica Casino (from the Palisades). You will have to exit out of the Palisades in order to get a second pitchfork to spawn. There are also two pitchforks which can be found at the Wild West Grill House in the Food Court.
The number of zombies on the second floor is reduced once the challenge starts. However, the first floor remains crowded, and you can gain PP by killing zombies on the first floor as long as you stay on the second floor. Using three to four Hail Marys on the crowd on the first floor makes this challenge extremely easy, as you can achieve the Gold medal in a very short amount of time.

Other long range weapons that can be used to reach zombies on the first floor are the Blambow and Super B.F.G..
The name of the challenge may be a reference to the survival-horror zombie game "Killing Floor" by Tripwire Interactive.
The co-op version of this challenge is called Second Floor: Zombie Killers.
Community content is available under
CC-BY-SA
unless otherwise noted.