Mannequin Female Left Leg
Type
Melee
Uses
20
Strength
Okay
Location
Broken mannequin females
Fits in Inventory
Yes

The mannequin female left leg is a weapon in Dead Rising 2 and Dead Rising 2: Off the Record.
It is obtained after breaking a female mannequin. After ten hits, the foot breaks off of the leg.
Main: Tap / and Chuck raises the leg over his right shoulder and swings down across his chest. This attack is similar to the baseball bat attack, but does not have a second hit.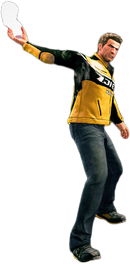 Weapon Animations

Animation name
Animation shared with
1hand_b_rand_1



male_attack_1hand_a_impact_miss_8_to_4_light

Fuel Tank
Mannequin Female Left Leg



male_attack_bass_guitar_a

Mannequin Female Left Leg
Broken leg
Edit
References
Edit
↑ In items.txt, this item has the line DestroyOnThrownImpact = "true". See Mod:List of items.
Community content is available under
CC-BY-SA
unless otherwise noted.