Mannequin Female Right Leg
Type
Melee
Uses
20
Strength
Good
Location
Broken mannequin females
Fits in Inventory
Yes

The mannequin female right leg is a weapon in Dead Rising 2 and Dead Rising 2: Off the Record.
It is obtained after breaking a female mannequin. After ten hits, the waist and foot break off of the leg.
Main: Tap / and Chuck raises the leg over his head and slams it down in front of him.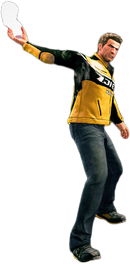 This item is destroyed when thrown.[1]
When the waist and foot are still attached, this weapon shares the same attack animations as the mining pick and the mannequin female torso.[2]
In the PC file items.txt, when the waist is attached, this item is called "MannequinFemaleWaistRLegRFoot".

The leg without the waist and the foot is called "MannequinFemaleRightLeg".

With the foot alone, the animation is the heavy/alternate attack for the bass guitar, and it is different from the mannequin female left leg attack.[3]
The right and left leg alone look identical.
The Dead Rising 2 Prima Official Game Guide does not mention this weapon.
Weapon Animations

Animation name
Animation shared with
male_2hand_1_to_5_miss

Mannequin Female Right Leg



male_attack_1hand_a_impact_miss_8_to_4_light

Fuel Tank
Mannequin Female Right Leg



male_attack_bass_guitar_heavy

Mannequin Female Right Leg
Broken leg
Edit
References
Edit
↑ In items.txt, this item has the line DestroyOnThrownImpact= "true". See Mod:List of items.
↑ Under "MannequinFemaleWaistRLegRFoot" in PC file items.txt:

AnimationAttackName0 = "male_2hand_1_to_5_miss"
Community content is available under
CC-BY-SA
unless otherwise noted.