The massager is a weapon in Dead Rising 2, Dead Rising 2: Case West, and Dead Rising 2: Off the Record.
It is an adult sexual stimulator which can be used for bludgeoning zombies. Massagers are simple blunt weapons that have short range and little attack power. Some zombies carry massagers and will attempt to attack Chuck with them.
In Off the Record, the massager is a component for the Super Massager combo weapon.[1][2]
In the PC game file items.txt, this weapon is referred to as "BobsToy" (Bob's Toy), possibly named after the known acronym "battery-operated boyfriend."[3]
The massager is one of only six weapons which can be affected by three magazines at the same time.[4]
Weapon Animations

Animation name
Animation shared with
bowieknife_b_rand

Massager



male_attack_1hand_a_impact_8_to_4_miss

Massager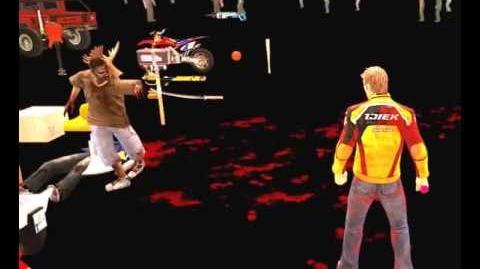 References
Edit
Community content is available under
CC-BY-SA
unless otherwise noted.