This article is in need of some cleanup. Look into spelling and grammar.
'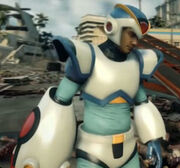 Mega Man X outfit'
is an outfit in
Dead Rising 3 
that is only unlocked by getting the 
S
 ending on normal mode
How to unlock the outfit
Edit
- do all the story missions 
- when Gary blocks the entrance to the karaoke bar, he gives you a choice to either get Rhonda for him or kill him
- obviously don't kill him so just get Rhonda for him
- then you'll enter overtime mode where you have to destroy hemlocks drones
- kill Hemlock and then BOOM!!!! Mega Man outfit
and if you want to get the mega buster 
- get the s ending on nightmare mode, the days on nightmare mode are shorter and nights are longer and you can only save in bathrooms, and you have 4x less time so side missions are impossible, make sure you are fully upgraded and leveled up and then you're set
Community content is available under
CC-BY-SA
unless otherwise noted.