To modify Dead Rising 2 files, you must be able to open them. This tutorial will show you how to use Gibbed's Dead Rising 2 Tools to open and modify your game files.
Download Gibbed's Dead Rising 2 Tools
Edit
Download link for Gibbed's Tools, latest version
Forum thread on the download, [TOOLS] Gibbed.DeadRising2.Tools, Dead Rising 2 PC Mods. (October 12, 2010).
Tutorial on how to open files
Edit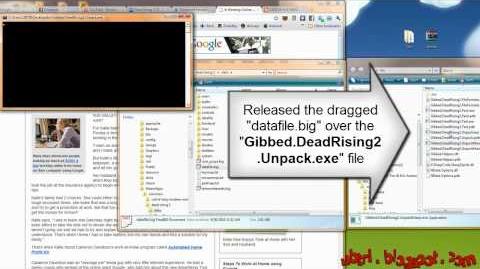 The video to the right will show you how to open .big files. Below are screenshots of the video. Click on an image to enlarge it.

Locate the folder you have Dead Rising 2 installed in. You will be unpacking datafile.big located in the /dead rising 2/data folder.
Click and drag the datafile.big file.
Release the dragged datafile.big file over the Gibbed.DeadRising2.Unpack.exe file.
The unpacked datafile.big opens into a new folder /dead rising 2/data/datafile_big.
Make your desired modifications, then remember to save the file.
Click and drag the datafile_big folder over to Gibbed.DeadRising2.Pack.exe.
This will create a new file called datafile_big.big.
Backup the original file by renaming the file (default)datafile.big.
Rename the new datafile_big.big to datafile.big and run the game.
Mod:List of items, items that can be added to datafile.big and will then appear in the game
External links
Edit
Community content is available under
CC-BY-SA
unless otherwise noted.