Note: Texmod is deprecated by the Proboards modding community and is no longer used. See Mod:Create Reskins instead.
For Texmod, see also: Mod:Create Reskins and Mod:Texmod installation.
With the program Texmod, a modder can view all the Dead Rising 2 texture files and then convert them to a desired format. For Dead Rising 2, this format is ".dds".
Texture files are the colors, styles, and designs for all items, people and places in the game.
A modder can then change the color and texture of these files, or even draw in these texture files, compile these texture files, and then play these files in Dead Rising 2 with Texmod.
Instructions
Edit
1. Start Texmod.
2. Click the yellow folder icon under "Target Application".
3. Search for your "deadrising2.exe" file.
4. Select "deadrising2.exe".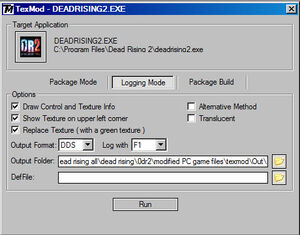 5. On the Texmod box, click the middle button "Logging Mode".
6. Change the output format to "DDS".
7. Under "Log with", select the button to save the texture in. The default is the enter key. This can be changed to any of the f-keys. However, remember that the game uses many of these f-keys.
8. Under "Output Folder", select which folder the converted textures will be saved in.

7. When you start the game, four lines of instruction will appear in red:
Press + and - to select a texture and enter (or the f-button you choose) to save it. Press , to reload replacement textures.
Hold * to filter drawn textures.
Press / to reset filter mode.
Textures loaded: 1015 filtered: 0
No textures selected
8. When the game starts, press the - key. You will start to see the different textures in the top left corner.

The texture which is being shown in the corner of the screen will turn bright green.

9. When you want to save the texture, press enter (or the F-button you choose). This texture will go to the Texmod/out folder by default.
Below are some of the texture pictures.
Continue to Mod:Create Reskins for instructions on how to modify these reskins.
Controls in Logging mode
Edit
All controls are located on your numpad.
Key function
+
Select next texture
-
Select previous texture
*
Only chosen textures will be selectable. This filters selected (drawn) textures.
/
reset filter mode (show all textures again, including those textures you have not selected)
,
If you have selected a Deffile on the Texmode box at startup, Texmod will reload the replacement definition file. This will reload modified textures without restarting Dead Rising 2.
External links
Edit
References
Edit
↑ 3d modder model updates? (Cinema 4D and Blender), Dead Rising 2 PC Mods, (October 21, 2010).
Community content is available under
CC-BY-SA
unless otherwise noted.