The pallet is a weapon in Dead Rising 2, Dead Rising 2: Case Zero, Dead Rising 2: Case West, and Dead Rising 2: Off the Record. When it is broken, a 2" x 4" is dropped.
Its durability can be increased with the Building magazine.
Attacks
[
]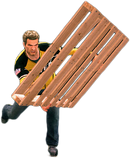 Main: Tap / to swing the pallet. Chuck swings from right to left across his waist.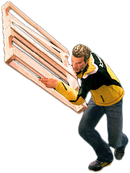 Item which appears when a weapon is broken
[
]
All of the items which can appear when a weapon is broken are found in the spreadsheet data/datafile.big/breakable.csv.
The item which appears when the pallet is broken depends on what number the item is assigned when placed in the area files.[1][2]
The numbers appear to be off by one. For example, the 31 large planters is 55, yet these planters spawn scissors and handguns, which is listed as 56 and is called LD_LargePlanter.
Item which appears when weapon is broken

Column header
Number
Items
Location
N/A
0

None[3]

Default for garbage bag and three items thrown from train in Case 2-2[4][5]

color: black;

Garbage_Bag
1

Default for five garbage cans and cardboard box[6]
Vodka_Default
2

Cardboard Box (x3)

Dolly (x1)

2x4
3

Default for pallet and bench

Snack (x1)

Newspaper_default
4

Default for newspaper box
RESERVED_WPNTEAM
5 to 49
None
Empty
RESERVED_WPNTEAM
50
BOSSBATTLE_TKOT
51

Not used
RESERVED_BOSSTEAM
52
Not used
LD_ProMilitaryCrate
53

"Pro" may stand for prologue (Case Zero)

Not used

LD_ProBox
54

Not used
LD_ProGarbage
55

"Pro" may stand for prologue (Case Zero)
LD_LargePlanter
56

Treasure Chest (x27)

Rooftop Safehouse:

Garbage Bag (x1)

LD_TreasureChest
57

OneHundredDollars
OneHundredDollars
OneHundredDollars
OneHundredDollars
Gems

Default for Military Case.

Suitcase (x1)

Laboratory:

Military Case (x23)

Cardboard Box (x2)

LD_MilitaryCrate
58

Grenade
MercAssaultRifle

Cardboard Box (x1)

LD_Attractor
59

RomanCandle
FireCrackers

Suitcase (x1)
Handbag (x1)

Small Suitcase (x2)
Handbag (x1)

Shopping Boxes (x1)

LD_Jewellery
60

Gems
Brick
BagofMarbles
HandBag

Cardboard Box (x3)

Cardboard Box (x3)

Cardboard Box (x9)

Garbage Bag (x1)
Cardboard Box (x3)

Cardboard Box (x4)

Cardboard Box (x6)

Cardboard Box (x6)

Cardboard Box (x2)

LD_MachineRoomBox
61

SawBlade
SawBlade

Garbage Bag (x2)

Garbage Bag (x3)

LD_Garbage Bag
62

GarbageCan_4 (x4)
GarbageCan_2 (x2)

Arena (backstage):

GarbageCan_1 (x8)
PlasticBin (x3)

GarbageCan_2 (x3)

LD_GarbageCan
63

Cardboard Box (x4)

LD_ToyBox
64

WackyHammer
BeachBall
WaterGun

Cardboard Box (x22)

LD_SouthPlazaHardware
65

SawBlade
MotorOil
PowerDrill
Crowbar

Small Suitcase (x2)

Small Suitcase (x4)
Suitcase (x2)

Food Barn (Slot Ranch Casino and Food Court):

Small Suitcase (x1)

Fortune Exterior (Fortune Park, Platinum Strip, Silver Strip):

Small Suitcase (x1)
Suitcase (x4)

Small Suitcase (x3)

LD_Suitcases
66

FireCrackers
Gems
Shampoo
MusicDiscs

Cardboard Box (x6)

LD_SportBox
67

BowlingBall
Dumbbell
SoccerBall
GolfClub

LD_ClothingBox
68

SmallSuitcase
HandBag
Hanger

LD_LoadingBayBox
69

MotorOil

LD_Handbag
70

BobsToy
OneHundredDollars
OneHundredDollars

LD_DeviantSuitcase
71

BobsToy

LD_FoodCourtBox
72

ServingTray
Ketchup
Mustard
Mayonnaise

LD_Kitchen
73

ChefKnife
MeatCleaver
Plates
CookingOil
CookingOil

LD_GiftshopBox
74

PlayingCards
Brick

LD_WaterGun
75

WaterGun

LD_GarbageBodyBag
76

Mayonnaise

LD_CasinoBox
77

Beer
CasinoChips
FireCrackers
PlayingCards
CroupierStick

missions.txt only in Rock Heroes

CardboardBox
Pizza
Vodka

LD_CommonBox
78

Brick
HandBag
ChefKnife

LD_SpoiledFoodBag1
79

SpoiledBacon
SpoiledBBQChicken
SpoiledBBQRibs

LD_SpoiledFoodBag2
80

SpoiledSteak
SpoiledSushi
SpoiledLobster
SpoiledFish

LD_TrainBox
81

OrangeJuice
OrangeJuice
OrangeJuice

Not used
Locations
[
]
Case Zero
[
]
Dead Rising 2
[
]
Trivia
[
]
Weapon Animations

Animation name
Animation shared with
male_attack_large_item_heavy

Pallet

male_attack_lgbox_3_to_7_b

Pallet
Gallery
[
]
References
[
]