Pan
Type
Melee
Uses
30
Strength
Good
Location
See article
Fits in Inventory
Yes

The pan is a weapon in Dead Rising 2, Dead Rising 2: Case Zero, Dead Rising 2: Case West, and Dead Rising 2: Off the Record.
It is commonly found in the kitchen areas of many restaurants in Still Creek and Fortune City. Pans can be heated on stoves, which awards the player prestige points and unlocks an alternate attack. Its attack animation is nearly the same as the lead pipe. Although the pan is differently named from its Dead Rising counterpart, it retains the ability to be heated on a stove and use the "face-searing" attack it gains after being heated.
Its durability can be increased with the Domestic magazine.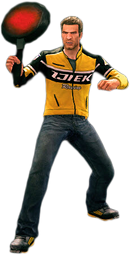 Alternate: When the pan is heated, hold / to raise the pan and press it into a zombie's face, searing it and killing them. This attack awards the player 50 prestige points for each kill.
Stove locations
Edit
Case Zero
Edit
Dead Rising 2
Edit
Locations
Edit
Case Zero
Edit
Dead Rising 2
Edit
In Dead Rising, frying pans emitted steam when Frank held them, no matter how long Frank held the frying pan. This animation is absent from Dead Rising 2.
In the PC game file items.txt, the heated pan is referred to as:

AlternateTextureName0 = "data/models/weapons/pan_heated"

Weapon Animations

Animation name
Animation shared with
male_1hand_heavy_8_to_4_a_miss

Pan
Pan (heated)



male_attack_1hand_club_c

Pan
Pan (heated)



male_attack_fryingpan_miss

Unique to Pan
↑

There are not enough pans for Cucina Donnacci lying around. The player will need to leave the area and come back to reset any used pans and bring them to these stoves.
Community content is available under
CC-BY-SA
unless otherwise noted.