Playboy is a magazine company that teamed up with Capcom to have their images in Dead Rising 2.
Dead Rising 2 producer Shin Ohara stated in an interview:
"Capcom chose Playboy because it really fit the DR2 world. It takes place in a gambling town, not a children's playground, but an adult playground. When we first saw the pictures in the game of the billboards and posters we were like, "Oh my god it really fits the DR world!" and we wanted to put it in there so people have something to look at instead of a generic poster...We contacted Playboy and said we have this game and we want to do something with you in terms of PR and marketing in general. Our idea was that we would put in some posters with your playmates and it would get a lot of people looking at them."[1]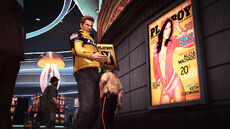 The Playboy magazine grants Chuck prestige points for female survivor related activities.
In Dead Rising 2: Off the Record, this magazine is replaced by the Erotic Magazine.

In Dead Rising 2: Off the Record, Uranus Zone posters replace Playboy posters.
The name of the magazine is simply "Playboy".
The magazine is called "cKnowledgeItem Magazine_PP_Female_Survivor_Playboy" in the items.txt PC game file.
References
Edit
↑ Spencer, Dead Rising 2 Interview On Duct Tape, The Timer, And Playboy, Siliconera, (August 13, 2010).
Community content is available under
CC-BY-SA
unless otherwise noted.