For the Terror is Reality event, see Slicecycles. For a complete list of motorbike modifications, see Dirtbike.
The Slicecycle, also known as the Chainsaw Bike, is a vehicle and combo weapon in Dead Rising 2 and Dead Rising 2: Off the Record. It can be crafted after the Meet the Contestants mission unlocks the use of Leon's trailer by combining a dirtbike with a chainsaw.
The Slicecycle is arguably the most dangerous weapon in the game, due to its superior strength and attack speed, with its durability. The Slicecycle is a simple design of a motorcycle and two chainsaws attached to the handlebars of the motorcycle.
It is a standard motorcycle, with the useful addition of two chainsaw blades acting like wings on either side, slicing anything that Chuck drives into.[1]
In order to create combo bikes, Chuck must first unlock the motorcycle trailer. This can be accomplished by defeating Leon Bell in the mission Meet the Contestants.
Chuck can find a chainsaw in the Kid's Choice Clothing in the mall or outside by the stage.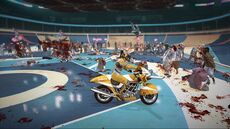 The official guide calls this bike a "Chain Saw Bike" and calls the Terror is Reality event bikes Slicecycles.[2]
According to Tape it or Die Wallace Hertzog, the Terror is Reality slicecycle pictured here is a "fully-modified IJIEK 772c Racing Bike (Second-Half 2004 Model), reverse-engineered to incorporate a low center of gravity (LCG) muffler design, a sixteen-valve, 4-stroke, DOHC engine, and, of course, a twin pair of chainsaws and 4 radial blades, attached to a separate engine located within the front fairing."[3]
A non-improvised version is used in the TiR event of Slicecycles.
Even though one chainsaw and a motorbike is needed, the finished model has two chainsaws.
Using the slicecycle is one of the ways to get the Z-Genocider 2 and Zombie Genocide Master achievements.
The bike can kill about 1000 zombies before breaking, unless Chuck crashes, in which case the possible kill count is lower.
References
Edit
↑ Frushtick, Russ. 'Dead Rising 2' Combo Weapons Guide - Duct Tape Is Your Friend, MTV. (August 31, 2010).
↑ Stratton, Stepehen (2010). Dead Rising 2 Prima Official Game Guide. Prima.

 

↑ Wallace Hertzog, Slicecycles are Back in True Form, Tape it or Die, (July 23, 2010.)