The square sign is a weapon in Dead Rising 2 and Dead Rising 2: Off the Record.
There are three types of signs: a casino advertising sign, a plain red and white sign that reads "Employee and Human Only," and a red sign that reads "Shopping mall under renovation."
Its durability can be increased with the Building magazine.
Attacks
[
]
Locations
[
]
Dead Rising 2
[
]
Trivia
[
]
In the PC game file items.txt, there are two alternative square signs[1]:
AlternateTextureName0 = "data/models/weapons/squaresign_peoples"


AlternateTextureName1 = "data/models/weapons/squaresign_renovation"

Weapon Animations

Animation name
Animation shared with
male_attack_lgbox_3_to_7_b

Square Sign

male_attack_lgbox_4_to_8_b

Square Sign

male_attack_lgbox_7_to_3_a

Square Sign
Gallery
[
]
Video
[
]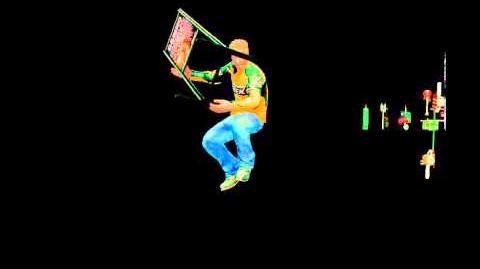 References
[
]
↑

Example in theme_park.txt file (Uranus Zone) of using alternate sign:

cItemPlacement Sign01
{
	ItemName = "SquareSign"
	Location = "-120.034,0.734,166.487"
	Rotation = "0.000,-0.708,0.000,0.707"
	TextureSubType = "1"
}