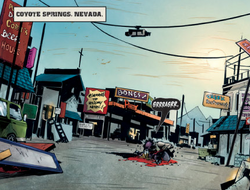 The Coyote Springs Outbreak was an outbreak that occurred in 2008. It is featured in Dead Rising: Road to Fortune.
Some attractions in town of Coyote Springs include Bones, the Petrol Dunk, Creek Restaurant, the Holiday Hotel, Bailey's Casino.
After a zombie outbreak of unknown origin reaches the town, the US Government sends in Special Forces soldiers to clean up the incident.
A squad was dispatched to clear out the zombie infestation in the town. Kushman, Ramirez, and Simmons, led by Captain Kilduff, are several soldiers are involved in the clean-up. At first, the number of zombies in the town does not pose a threat until they encounter a huge horde at the casino. Needing assistance, they call in for Air Support and a fifty caliber machine gun is used to shoot the zombies.
Outside town at the barricade, Rebecca Chang and her assistant Jamie sit in their KDED news van preparing to do a report. After witnessing the explosion that destroyed the casino, Rebecca demands the guard on watch duty to inform her of what is happening in the closed-off town.
The outbreak in Coyote Springs happens less than a day before the Las Vegas Outbreak and two days before the Still Creek outbreak during the events of Dead Rising 2: Case Zero.
Coyote Springs is an actual community in Nevada is that is undergoing development.[1]
It appears that the outbreak started in Bailey's Casino. One of the soldiers jokes about this in the comic, saying: "The whole damn town musta spent all their time in that friggin' casino."
Dead Rising: Road to Fortune Locations
Community content is available under
CC-BY-SA
unless otherwise noted.