"Let the wild winds of Italy wash over you and transform you into the stylish gentleman you always wanted to be. We are also proud to offer skin care consulations for sophisticated gentlemen."
—Willamette Parkview Mall Map
Tucci's of Rome is a men's apparel store on the second floor of Paradise Plaza in Dead Rising.
It is one of ten men's clothing stores in the Willamette Parkview Mall.
Items
[
]
Clothing
[
]
Black and White Tank Top with Grey Pinstripe Shorts
Black Baseball Cap
PP Sticker
[
]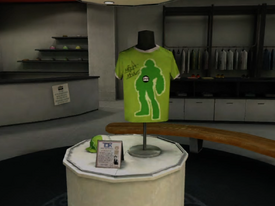 On the Megaman Shirt displayed in the middle of the store.
Gallery
[
]