For the Second Amendment challenge, see Naughty Poodle
For the Dead Rising poodle, see Madonna
Zombie animals are found in Dead Rising: Chop Till You Drop and in advertisements for Dead Rising 2.
Dead Rising: Chop Till You Drop
Edit
In addition to zombified humans, there are two kinds of zombie animals in Willamette Parkview Mall that will attack Frank West upon sight:
Parrots - drop grenades on the living. These grenades were left behind by law enforcement.
Poodles - agile dogs smart enough to dodge Frank's gunshots. They will jump on Frank and attack him with their teeth.
Dead Rising 2
Edit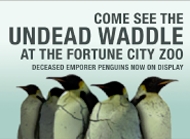 Despite Fortune City advertising a zombie zoo, which shows zombie emperor penguins, there are no zombie animals in Dead Rising 2 and there is no zoo. A possible explanation is that the zoo is situated in a different location than the main locale that hosts Fortune City.[1] The CURE site argues against this zoo, Rating it Number 4 in its list of Worst Offenders:
The zombie aphasia or virus as it turns out, isn't limited to the human population. When the Fortune City Zoo decided to stop euthanizing infected animals and start putting them on display for money, they crossed a weird line.[2]
Gretchen Peregrine writes:
"...according to some reporter from Willamette, the owners of the zombie zoo actually solicit other zoos from around the nation for the old and/or sick animals that are on the threshold of death. Those animals are then shipped to Fortune City, where, in a controlled environment, they are exposed to the infection, and thereby zombified."[3]
Red and blue parrots, both will drop grenades.
Blood-stained and heavily blood-stained poodles, with the latter being more vicious.
References
Edit
↑ Fortune City - Nevada - Welcome To The City With No Limits, Visit Fortune City.
↑ Worst Offenders, CURE.
Community content is available under
CC-BY-SA
unless otherwise noted.